The Link Team supports people in Bristol who are street homeless or at imminent risk of homelessness, and who also experience severe emotional distress associated with a mental health problem. 
When people face multiple disadvantages like homelessness, rough sleeping, and mental health problems, it can be hard to access the support they need. They often face barriers to connecting with services, and have to navigate between multiple disconnected services. This can make it difficult to stay engaged or build important relationships where they feel understood and empowered by their support workers. Equally it can be that services are not set up to hear and support people who don't necessarily conform or present in a way that they expect.  
The Link Team is funded by NHS England to try to address this situation. Launched in November 2021, we're a team of individuals from organisations across Bristol including Second Step, St Mungo's, Bristol Drugs Project, Avon and Wiltshire Mental Health NHS Trust and Bristol City Council. Our aim is to bridge gaps in service provision by working together, pooling our knowledge, sharing our approaches, and increasing access to resources. 
"My [Link worker] really tries for me. Other people where I live say I have eight people helping me and they do nothing, you have one person who does so much" - Link Team client
How we support people experiencing homelessness and mental health problems in Bristol
We are a multi-disciplinary team comprising of three engagement workers, a senior engagement worker, a social worker, a mental health practitioner, a psychologist, a team manager, and a team member with lived experience.  
Our wide range of skills and expertise means we have the opportunity to help our clients engage with the system more effectively by providing integrated support, seamless transitions, and relational continuity.  
We ensure our care is person-centred and trauma-informed at every stage, meaning we take the time to understand what a person has been through in the past, the social context of their experiences (such as racism or inequality), and how this affects their life now. For us it's about understanding what's happened to people rather than labelling them or trying to work out what's wrong with them.  
Our approach is tailored to each client, putting their needs, hopes and wishes first and building on their individual strengths and ambitions. 
"I feel respected as a person, as a human" – Link Team client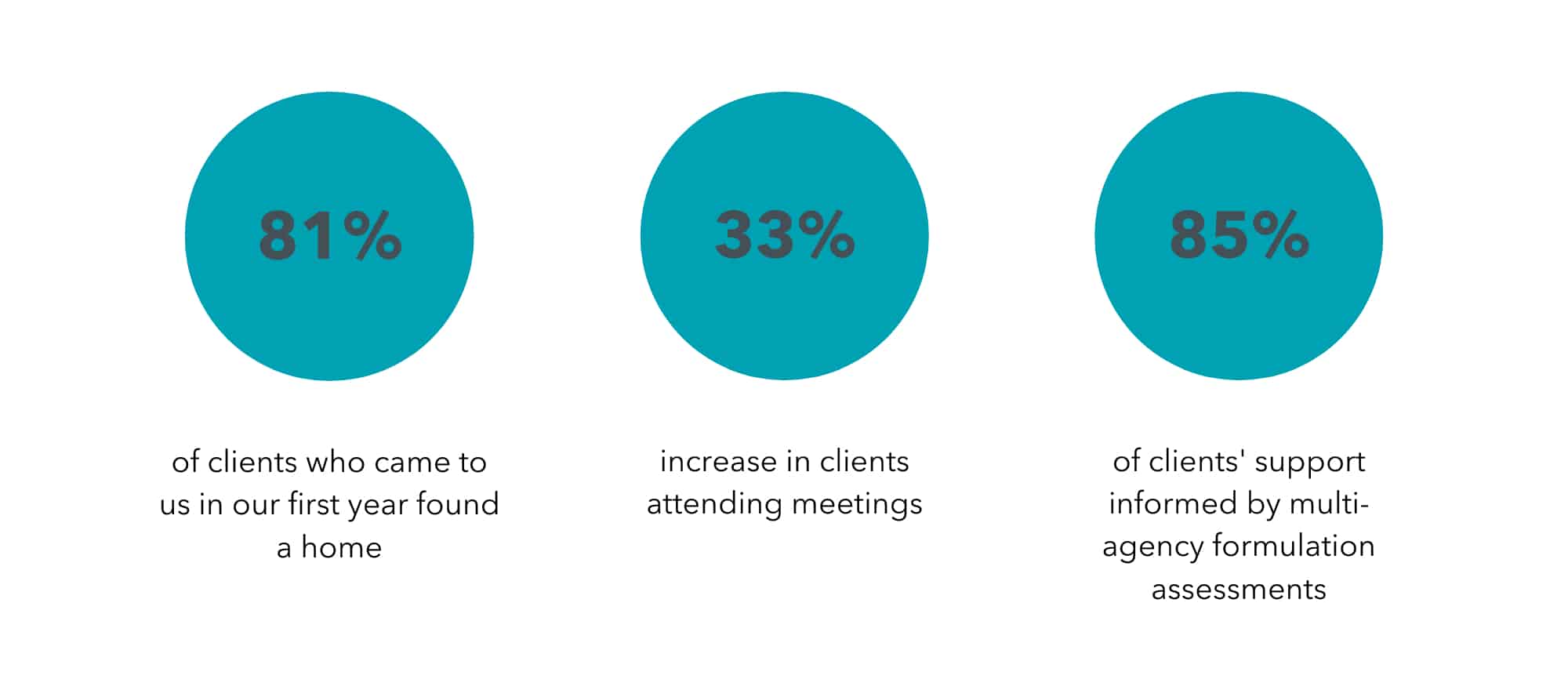 "I have found the work of the Link Team to be invaluable. Able to provide real tangible support for individuals who may find a more traditional resource difficult to work with due to lack of flexibility. I have also found them a positive critical friend, able to challenge but work together to provide solutions" – Client's social worker
"I love the Link Team Criteria and Nomination Process documents. The non-stigmatising language and the way in which the documents are so accessible is striking. You can really see the impact of them having been co-produced with experts by experience"

– Psychologist working with AWP team
"Through attending a formulation meeting and talking with Link workers, we are taking a more trauma informed approach to our work" – Professional working with Link Team
"I wasn't able to be indoors for four years, I couldn't get what I needed. I'm kind of learning now. I have a place to stay now" – Link Team client
Lived experience and coproduction
Lived experience is at the heart of the Link Team's approach and values. We've been working closely with Independent Futures, a group of people with lived experience of multiple disadvantages that aims to improve services in Bristol by involving and listening to the people who use these services.  
Independent Futures' lived experience experts' work includes: 
Coproducing client insight surveys and facilitating client interviews for feedback on their experience with the Link Team.

 

Working with our psychologist and team manager to consider ways to increase client involvement.

 

Offering their personal lived experience insights around problematic situations which remain unresolved over time.

 
How the Link Team and Independent Futures put coproduction into practice