We support people with complex needs in Somerset to find the hope and courage they need to change their lives. We work in partnership with Ara, a charity with specialist knowledge on helping people with alcohol, drug, gambling and mental health problems.
Together, we support and coach our clients on the road to recovery, and we do it in whatever way that is best for that individual. Our hope is that our clients are set up to live a fulfilling life in their own homes in their community - and away from the streets.
Our clients often have complex needs and can sometimes find it hard to sustain positive change in their lives. We believe we have a responsibility to make sure our service, and the system as a whole, does all it can to reverse this experience.
We support people to build their strength and reach their own goals, such as:
maintaining a home
improving health and wellbeing
accessing treatment
reducing re-offending and
becoming part of their communities though activities, training, volunteering or employment.
In our first year, we're proud to have supported 234 clients and we've seen 95% of clients experience a positive change in their housing. This could mean a permanent place to live or an improved relationship with a landlord - both of which make a massive difference in the lives of our clients. It is worth noting however, we are not a housing provider.
You can read about the difference we're making in Somerset and some of the clients we've helped in our 2022 Impact Report. Jake (below) is just one example of why expert support can make all the difference and he shares his story openly in our report. He says: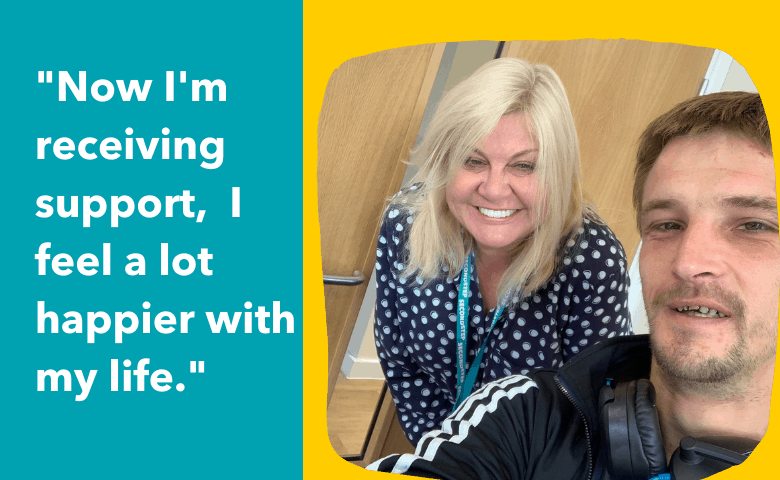 While we are not currently recruiting, you can find information about working with us here.
Our main office is in Taunton at The Great Weston Hotel, Station Approach. We also have bases in Street and Yeovil.
If you would like to report or discuss mistreatment of yourself or another vulnerable adult you can use our safeguarding policy.  Find out how here.