The Hope Project provides short-term emotional and practical support for men aged between 30 and 64, specifically those who are in psychological distress or have recently self-harmed, but are not currently using other mental health services.
New hope for suicide prevention
The Hope Project aims to prevent suicides among men and was launched to mark World Mental Health Day in 2018.
The project provides short-term emotional and practical support for men, specifically those aged between 30 and 64, who are in psychological distress or have recently self-harmed, but are not currently engaged with other mental health services.
Hope Project manager, Jez Spencer said:
"Our pilot project showed that short-term support from a skilled worker who understands the practical and emotional problems of dealing with employment, finances and housing issues can really help. The new Hope Project widens the remit to seek out and support men who may not even think they need help, but who are in real trouble."
Dan, a Hope Project client, shared his story to launch the project's new #GetReal campaign in May 2019.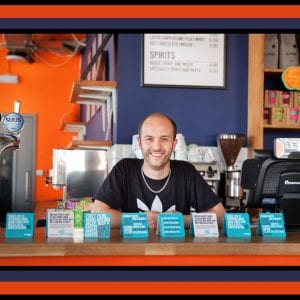 The Hope Project team are experienced support workers keen to make a difference and save lives.
To find out more or to make a referral and talk to a member of the Hope team, please call:
0117 4288 930 or email hope@second-step.co.uk
Bristol has a much higher suicide rate than the national average.
70% of suicides in Bristol are carried out by men, and middle-aged men are the highest risk group.
Debt, austerity and unemployment are estimated to have contributed to 1,000 extra deaths from suicide and an additional 30,000-40,000 suicide attempts between 2008-2010 following the economic downturn. This reversed previous trends in Britain where suicide rates among men were falling.
62% of suicides are completed by people unknown to mental health services.
Bristol, North Somerset and South Gloucestershire is one of eight national regions allocated funding from a new £25 million national suicide prevention investment by the Department for Health and Social Care, Public Health England (PHE) and NHS England, which aims to reduce the national suicide rate by 10% in three years.
Mental health, emotional wellbeing and suicide are all topics more freely discussed today than ever before.  Yet one in five of us will have suicidal thoughts and every 90 minutes someone will end their life.
https://www.gov.uk/government/news/new-funding-for-suicide-prevention-in-england
The Samaritans offer a safe place for you to talk any time you like, in your own way – about whatever's getting to you. You don't have to be suicidal. Call for free any time, from any phone on 116 123 or you can email jo@samaritans.org.
Talking Money is a charity that helps people in financial hardship, face-to-face and over the phone. Call for free on 0800 121 4511
An online resource you may find helpful is stayingsafe.net
Low Cost Counselling.
Some counselling services offer reduced rates of around £11 to £15 a session to people on benefits. For example in Bristol ACPS and Heart to Heart
Five tips for helping someone in crisis
Talk to someone: a friend, a family member, the Samaritans, your GP
Find a safe space: somewhere with no stress and good support like The Sanctuary
Avoid drinking alcohol and taking drugs
Get involved: maybe meet up with a friend or join an exercise group
Getting to know yourself: so you can recognise your signs of stress, for example, physical symptoms like palpitations, or drinking more alcohol or withdrawing from life.