With the New Year comes a lot of pressure to be more, be better, be something you haven't been before, but why? Why are people tripping over themselves to be something different? Putting pressure on their mental health to be something they are not.
It's easy to fall in the trap of making New Year's Resolutions and then living with the strain of not achieving them. We all do it, but in reality the New Year is just another day and we are still living the same lives we were before.
Of course if you want to change something in your life you should go for it, but don't put yourself under pressure to do it because that's just not good for your mental health.
Mental health author, Matt Haig came through with a very poignant tweet on the subject on New Year's Eve.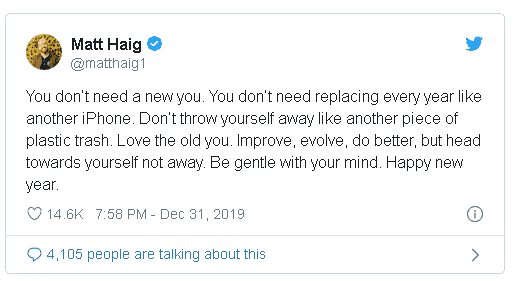 As Matt says always "head towards yourself" this will take pressure off because you recognise who you are rather than trying to change yourself into a person you no longer recognise.
If you start feeling unwell fulfilling your New Year's Resolution then you know that you aren't heading in the right direction for you and should stop and think.
Here at Second Step we wish everyone a Happy New Year and hope that you have a fulfilling year.