Welcome to our virtual Wellbeing College
Our virtual college resources are available for anyone wanting to look after their mental health and wellbeing during this challenging time, as well as for our existing learners from Bristol and clients from North Somerset Wellbeing Services.
You'll find a range of online resources from maintaining wellbeing and creative writing to mindful breathing. We'll be updating our resources regularly, so please make sure you visit often and follow our Facebook and YouTube channels.
If you are already enrolled as one of our Bristol Wellbeing College learners, you can also access our new live zoom sessions and join our Facebook community where you can connect with like-minded people. To become an enrolled learner  you must be receiving support from Bristol Mental Health services, or be a carer of someone who receives support. Contact us to find out if you are eligible.
We hope you all keep safe and well during this difficult time.  If you have any questions please get in touch:
bristol.wellbeing.college@second-step.co.uk or 0117 914 5498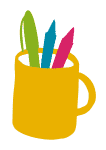 We are pleased to announce the return of our tiered delivery, providing online sessions aimed at different stages of the recovery journey:
Green Workshops  For those beginning their recovery and who may be going through a period of feeling lost, helpless or hopeless.  These are lighter sessions, encouraging self-expression, for example, through the use of different sensory tools.
Blue Workshops  For those who have begun to take steps towards making positive changes and are beginning to feel some of the benefits, but who may still feel unsure about their direction.  These are more structured sessions that aim to provide learners with helpful tools and strategies.
Pink Workshops  For those who have reached a stage in their recovery where they feel comfortable with self-reflection, and are working towards long-term planning.  Learners need to have a willingness to support each other in the sessions and appropriately share their experiences.
Course name: Mindful Pattern Squares Art Session
---
What is the session about?
This session is about relaxing and creating simple square patterns using black lines and paper. Straightforward step-by-step instructions and visuals will guide you towards producing a range of fascinating patterns. It's meditative qualities will allow us to let go of our day-to-day lives and engage mindfully with the simple process of drawing.
---
Who is it for?
This session is for anyone who would like to explore art and craft for relaxation. We will also learn about the mindful benefits to our well-being from engaging with drawing.
---
How is it taught?
The session involves creating a number of distinct patterns using just two thicknesses of black fine liner pen. You will follow instructions on screen to create the patterns and then gradually build up textures by further line work.
No previous experience or drawing skills required.
Materials required.
A4 paper (ideally plain) 10 sheets
A book or clipboard to rest on
Black fineliner pen (if not a black biro or felt tip)
---
What will be learnt?
A better understanding of how (with a little relaxing, letting go) we can engage our creative right brain and quieten our critical left brain through art and self expression.
---
Location:
Zoom Live Session
---
Time:
14:00 to 14:45
---
Date:
5 October 2020
---
Second Step set up the Bristol Wellbeing College in 2014. It aims to give people who receive support from Bristol Mental Health services the recovery principles and practices to help them move forward in their lives. You can enrol to become a learner by emailing our team on bristol.wellbeing.college@second-step.co.uk or calling 0117 914 5498.
To be eligible, you must be receiving support from Bristol Mental Health services, or be a carer of someone who receives support.