Lisa wins prestigious Golden Key Great Practice Award
Lisa Murfin, Second Step's Housing Team Manager, received the Cultivating Change Award for her work in homelessness services at a Bristol awards ceremony last night.
The Great Practice Awards, now in its second year, are run by Golden Key a partnership of statutory services, commissioners, the voluntary sector and people with lived experience who work together to improve services for Bristol citizens with the most complex needs. The awards ceremony, which was held at the Watershed, celebrated individuals, organisations and networks that are helping to improve the system for people with multiple disadvantage.
The ceremony was led by Hannah Mahoney, Golden Key's Programme Manager, and the seven awards were presented by Councillor Asher Craig, Deputy Mayor of Bristol. Winners were chosen by a judging panel of system change enthusiasts.
Lisa was delighted to receive the Cultivating Change Award. She said: "I am over the moon to have received this award! Having the confidence to recognise and explore how things can be changed in a system that is overstretched can be daunting. Being a keen horticulturist, I have always enjoyed planting a seed and watching it grow and develop! I'm humbled to be able to support other people learn about system change and adapt it to their role."
Lisa was also nominated in a second category for System Change Hero.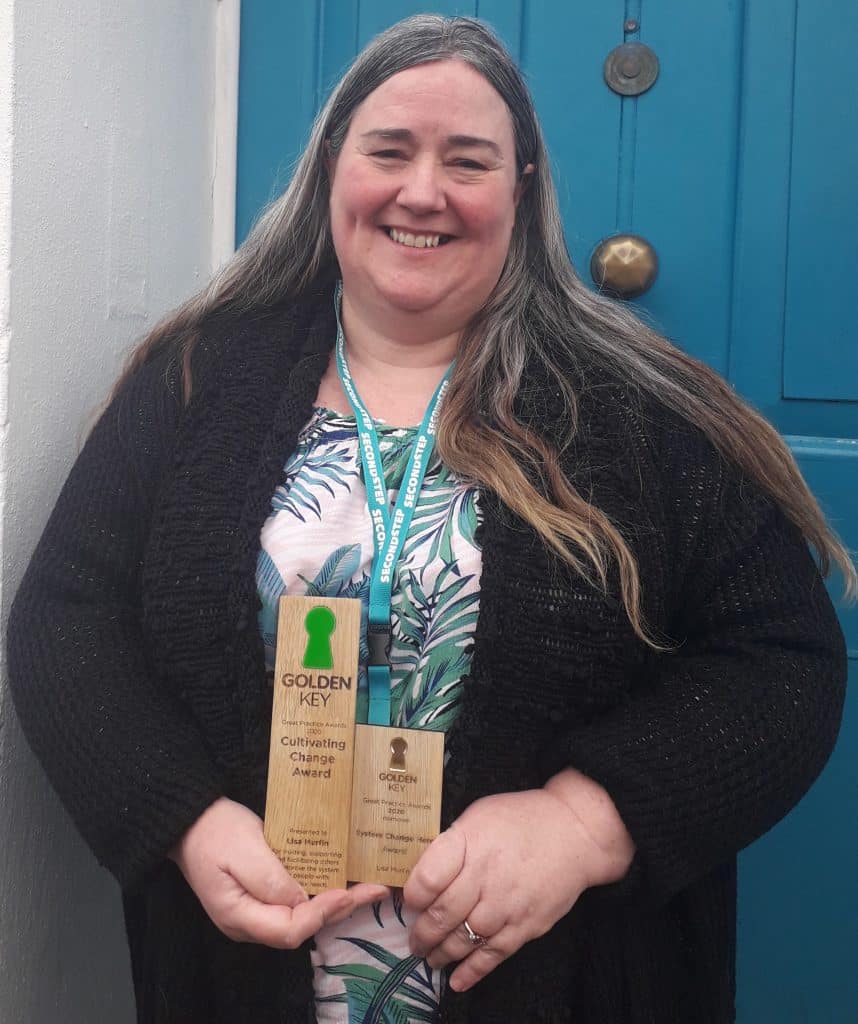 Lisa is amazing at making system change real by spotting and making small incremental changes at a grass roots level.

Hannah Mahoney, Programme Manager at Golden Key
Hannah Mahoney said: "All over Bristol there are people working hard to change the system for people with complex needs and making sure it works for them. We believe that by shining a spotlight on what is working well, we can all learn together and improve the system as a whole. Lisa is amazing at making system change a real thing by spotting and making small incremental changes at a grass roots level to support some of our most vulnerable clients move forward in their lives."
Awards were also picked up by Bridging Gaps, for the Independent Futures Award; 1625 Independent People received the PIEoneering Change Award; Tracey Tudor of One25 received a Developing Trust Award, and the System Change Hero Award decided by public vote, went to Karl Durrant at Bristol City Council. Bridging Gaps, Helen Roper of St Mungo's, Bristol Refugee Rights and Bristol Hospitality Network were joint winners of the Inspiring Learning Award. John Summerhill of St Mungo's was also awarded with a special award for "going the extra mile."
For more information about Golden Key, visit www.goldenkeybristol.org.uk