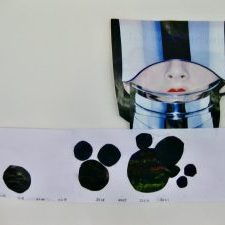 V is an artist living in Bristol. 

In recovery from being hacked and digitally stalked during the lockdown, this is her first foray back into the online world.  Her images here tell the story of this last year: from victim to survivor. 

She enjoys all artistic mediums and uses her lounge wall to 'exhibit' her work which she uses as a reflection to process the impact of the cyber trauma on her life.  She enjoys painting using anything from pineapple leaves to bits of carrot but rarely a paintbrush.  In her spare time, she is often found tucked away in a corner of an art gallery or bimbling through the countryside. 
Her great inspirations are Tracey Emin, Grayson Perry,  Andreas Gursky and Salvador Sobral 
Attending the Poem Brut course was life changing for me.  It was the first place I felt safe enough to 'speak' freely and express the impact that cybercrime had on me using just image and scrawls.  Without the need for words, I was able to communicate the unspeakable.  As my images became larger and larger, I realised that the gestural marks were allowing me to release a lot of the pent up energy; the trauma held deep in my body.

I created one particular image (Geschützt) which looks like just scrawls on the page, but to me this image was pivotal in my recovery journey.  It told the story of how I wish I had been met in my terror and distress; the protection from others I wish I had received at the time.  In showing this and other images to the others on the course, and having them reflect back what they saw, broke something very deep within me and what happened to me was finally witnessed and could start to heal.

Poem Brut changed my life;  it is one of the places I now call home.