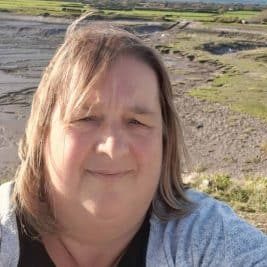 Sharon has always been a creative person but liked a strong sense of order and control. Suffering from depression and anxiety for the last 2 years had turned life upside down. The Poem Brut course has not only given me a new creative interest but has also given me a way of expressing myself through the chaos.
Having attended and found really helpful many of the wellbeing college zoom sessions, I signed up for the Poem Brut course full of trepidation. This was going to take me outside of my comfort zone.

Having struggled with depression and anxiety for the last 2 years, I felt I'd lost my sense of identity and purpose. I felt bored and frustrated with life.

This course has helped me grow in new ways. It has given me a sense of belonging within the group and a sense of purpose of being part of something with others.

It has challenged my desire to control and order life by encouraging spontaneous creativity and being instinctive. It has opened up a whole new world of interest in art and poetry, something I never would have looked at before. The course has given me a new way of expressing myself and my inner feelings when often language is not sufficient. It takes me out of myself giving my brain time to rest and reconfigure. I use ideas from the course to help me relax or as distraction when I am feeling very anxious. It is helping me live a much fuller and positive life, despite varying levels of poor mental health.

Ali and Paul were fantastic tutors complementing each other in style of delivery.

They provided good knowledge of the subjects and gave a lot of support and constructive encouragement.

It has felt different from the individual sessions as it grew a sense of community and with that came responsibility to attend the sessions and encourage each other.

I'd love for this group to be able to continue in some form as a way of connecting with others and providing opportunities to explore life through creativity.