Coronavirus update
The wellbeing of our learners continues to be of utmost importance to us, that's why we're offering a variety of new online resources and live sessions during the Covid pandemic.

Welcome to our virtual Wellbeing College
Our virtual college resources are available for anyone wanting to look after their mental health and wellbeing during this challenging time, as well as for our existing learners from Bristol and clients from North Somerset Wellbeing Services.
You'll find a range of online resources from maintaining wellbeing and creative writing to mindful breathing. We'll be updating our resources regularly, so please make sure you visit often and follow our Facebook and YouTube channels.
If you are already enrolled as one of our Bristol Wellbeing College learners, you can also access our new live zoom sessions and join our Facebook community where you can connect with like-minded people. To become an enrolled learner  you must be receiving support from Bristol Mental Health services, or be a carer of someone who receives support. Contact us to find out if you are eligible.
We hope you all keep safe and well during this difficult time.  If you have any questions please get in touch:
bristol.wellbeing.college@second-step.co.uk or 0117 914 5498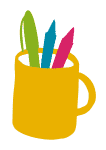 Course name: Making Picture Poems
---
What is the session about?
Making Picture Poems encourages you to escape sense and order. We explore making poetry with our hands to celebrate scribbles, crossings out, forgotten notes and strange scrawls. We discover self-expression through collage, shape and colour as well as words.
---
Who is it for?
Good for anyone who struggles finding the words to express themselves, who enjoys being creative, or who has been interested in exploring poetry but felt it is "not for them".
---
How is it taught?
These sessions will be taught over the video conferencing application Zoom and will be discussion focused.  You will be given instructions on how to download and use Zoom when you book onto this sessions.
---
What will be learnt?
Increased self-confidence and esteem; developing creative literacy skills in painting/drawing/collage/writing. Feeling motivated, communication skills.
---
Location:
Zoom Live Session
---
Time:
11:00 AM to 12:00 PM
---
Date:
23 June 2020
---
Second Step set up the Bristol Wellbeing College in 2014. It aims to give people who receive support from Bristol Mental Health services the recovery principles and practices to help them move forward in their lives. You can enrol to become a learner by emailing our team on bristol.wellbeing.college@second-step.co.uk or calling 0117 914 5498.
To be eligible, you must be receiving support from Bristol Mental Health services, or be a carer of someone who receives support.