Our social media campaigns
At Second Step we are determined to find the time and space for the people who use our services to share their ideas and thoughts about what keeps them well and how they cope with life's difficulties. From time to time we turn this work into social media campaigns to share our thinking more widely.
#GetReal
Our Hope Project launched the Get Real campaign to help raise awareness of male suicide in men aged 30-64. The Hope Project provide support to these men and as part of the campaign produced beer mats with the #GetReal slogan stamped across them.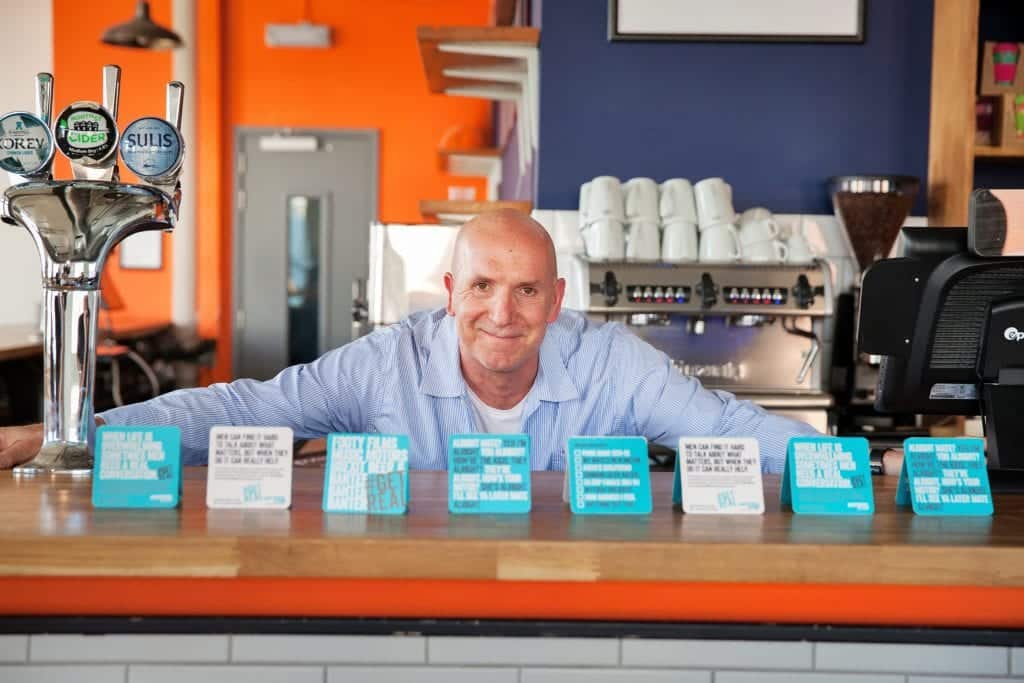 #WhatMakesMeWell
We'd like you to take a moment to join our What Makes Me Well campaign. This ongoing campaign asks individuals to share the one thing that helps keep them well by posting some thoughts, film or image on Instagram. We've had gardens, walking, swimming, friendship, pets and much more. Do add your voice to our lovely campaign which was launched on BBC Radio Bristol in 2018. Find our more about our Instagram campaign here.
The Ford

Communications Manager Jane Edmonds shares a short one minute video on what helps keep her well.

Since I was young we've been going to The Ford – our secret Gloucestershire hideaway.
A ford is the place where a shallow stream travels across a road. You reach our ford by walking down a country lane through a dabbled tunnel of overhanging trees. As you get nearer, the noise of the stream becomes louder, and we get excited to see if our special place is still as we remembered it.
And, sure enough, every time the ford comes into view our spirits soar. The water has formed still pond, only shaken up by the occasional farm vehicle splashing through. We skim pebbles across the water and sit next to the Cotswold stone bridge listening to the water as it gurgles through its arches.

I try and visit every season and have been there in every weather. I've taken all my children, and now I take my granddaughter.
It is particularly gorgeous there in early summer which is why we made this little film.
#ItsTheLittleThings
As we all know, it's often the little things in life that can make the biggest difference. This campaign is our only fundraising campaign, and raises funds for Sylvia's Fund, the brainchild of one of our support workers, Isabella Cross. The Fund brings together small donations from individuals and organisations to give the people who use our services a little bit of extra help. Launching in October 2018, the fund encourages clients or their support workers to apply for grants of up to £50 for anything which could help their recovery, from paintbrushes to a meal out, a haircut or help to pay for an education course. We will be featuring stories from the campaign here on a regular basis, so keep an eye out. The only requirement is that the applicant currently uses Second Step services. Get in touch with the Communications Manager on 07841 777401 to find out more.
#TakingMentalHealthOutside
Our most recent campaign is the result of a four-month experimental film project with staff, volunteers, peer workers and clients from the Community Rehabilitation Service. Called Taking Mental Health Outside, the photo-essay is both poignant and deeply personal. We hope you find time to watch it. Taking Mental Health Outside.
#HomeEqualsHope
Earlier in the year to coincide with Bristol's Homeless Awareness Week, we ran a campaign highlighting the importance of having a home to everyone's mental health. The campaign was spearheaded by our supported housing client, Paul, who shared his story about losing his home during a stay in a mental health hospital unit. You can find out more here.
#PuttingMeFirst
In November 2017 we launched our Putting Me First film and campaign showcasing a number of stories from Second Step volunteers, clients and staff about the importance of being seen as more than a diagnosis. The film premiere attracted attention from other mental health charities, mental health campaigner, the Mayor of Bristol and the local media. You can find out more about the campaign here.