Our Response to Coronavirus
Throughout the last year our priority has been the safety of our clients and staff. We are pleased that we have been able to continue to provide face to face support for our clients despite the challenging circumstances.  You can read more about the changes we've made in response to Coronavirus in our Impact Report 2020.
With the latest Government announcement of a roadmap to lead us out of lockdown we are optimistically putting in place our own recovery plan.  We will of course continue to follow the latest guidance.
We remind you to think Hands, Face, Space – washing your hands regularly for at least 20 seconds, using a face mask when required and keeping 2 metres space between you and others will all help to reduce the spread of the virus.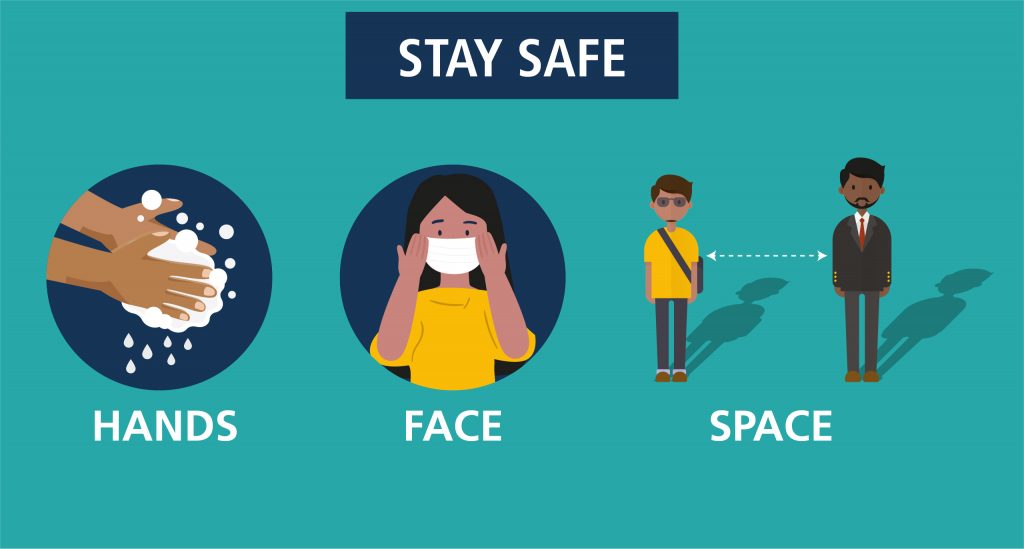 Symptoms
It is still critical that if you are experiencing coronavirus symptoms you book a test using the Government portal or by phoning 119. You and anyone you live with must then self-isolate until you get your results back. You can find more information, support and guidance on testing here.
Vaccinations
We acknowledge some people may have some concerns about having the Covid-19 vaccine and there has been misinformation circulating.  The BBC Reality Check team looked into some of these claims here: https://www.bbc.co.uk/news/55747544
NHS England have also put together a range of information about why Covid-19 vaccinations are safe and effective. The main messages are:  
Two safe and effective vaccines for Covid-19 are now available, Pfizer and AstraZeneca. Neither vaccination contains animal products
The Covid-19 vaccinations have been approved by the MHRA, the official UK regulator, like all other medicines and devices
The vaccinations have undergone months of rigorous testing and the MHRA's approval processes mean we can be sure they meet strict safety standards and offer high levels of protection
Rollout of the vaccine will help protect against the virus meaning we can once again connect in person with those people that support us.
BAME take up of the vaccine
There's been growing concern about the uptake of Covid vaccines by black, Asian and other ethnic communities in the UK. There's a lot of research to confirm that this is indeed the case, with GPs warning in January that people from BAME communities are 10 times more likely than other groups to not turn up to get their vaccine.
There are a number of reasons for this hesitancy and it's got a lot to do with trust, or a lack of it. This is a good read from the King's Fund on the inequalities behind Covid: https://www.kingsfund.org.uk/blog/2020/12/fears-concerns-covid-19-vaccination
You can find information on the vaccines in different languages here.  This includes information on testing and approvals.
Helplines
For anyone over 18 in Bristol, North Somerset and South Gloucestershire who needs mental health advice and help right now, please call:
People in Somerset can call:
Shielding
If you've been notified that you that you have a medical condition which makes you clinically extremely vulnerable to coronavirus, please register your details at the following website: https://www.gov.uk/coronavirus-shielding-support. You can use this service to get access to priority supermarket deliveries or ask for someone to contact you about other local support. Please also click here for a single source of resources and practical advice for those that are shielding.
Self-Isolating
If you are self-isolating or require additional support, contact the following numbers to be put in touch with local groups who can help with fetching shopping, medication and other essentials supplies, as well as other mutual aid:
Remember: if you are experiencing domestic abuse, household isolation rules do not apply. You are allowed to leave your home and NextLink can provide support and accommodation. Call 0800 4700 280 (24/7) or go to: www.nextlinkhousing.co.uk
Online Support
SilverCloud is a free online platform offering valuable mental health and wellbeing support: https://bnssg.silvercloudhealth.com/onboard/
Bump2baby wellbeing helps you find the right support during pregnancy, birth and beyond: bump2babywellbeingguide.org
Our Bristol Wellbeing College and North Somerset Wellbeing are providing online sessions and pre-recorded YouTube sessions.
You can also access useful resources here on our website, including online Wellbeing College recorded sessions and materials and our Dear Friend blog.
If you need to speak to someone please call our main Bristol office on 0117 909 6630 or email admin@second-step.co.uk.