One of our core values is about diversity, specifically:
Celebrating diversity
We value our differences, understanding that being kind and respectful to each other makes us strong.
The tragic death of George Floyd in America in May 2020 sparked protests across the world and prompted a resurrgence of the Black Lives Matter movement. It was this that moved us to look at the way we as individuals and as an organisation behave towards people from black, Asian, minority, ethnic (BAME)* communities, and in particular, to review our Equality, Diversity and Inclusion policy.
What are you doing?
We looked at our processes and procedures, spoke to each other, and to our colleagues from BAME communities, and quickly realised we had a lot of work to do.
It is clear that for many of staff, volunteers and clients the structures and processes in our organisation are not fit for purpose. We have completed a staff consultation about introducing a new structure to look at addressing the issue of racism in the workplace. We're now in the process of creating new groups to start our work together.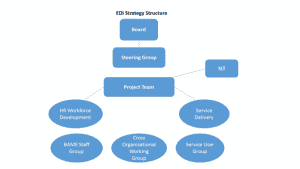 Watch this space for updates on this hugely important work, which has become a priority for all of us, from our Board and Senior Leadership Team, through to all our services and project teams.
We are looking for an Equalities Expert to work with our Board and Senior Leadership Team to take action and address the underlying racism which exists here in our own organisation.  Find out more here.
More information and resources
Opal Tometi, the co-founder of Black Lives Matter tells her story here.
*We are currently using the acronym BAME. We know there is discussion about the use of this term, and we will be talking to colleagues about this in the coming weeks.
Second Step, along with many local organisations, is a signatory to Bristol City Council's Equalities Charter. You can read it here.
For more information please go to the Community Access Support Service (CASS).